Why Your Home Needs Sub Floor Ventilation
To ensure a healthy home, underfloor ventilation is essential. GES are the solar subfloor ventilation specialists. Our powerful sub floor ventilation fans could save you thousands of dollars in repairs (if installed in time) to prevent irreversible damage caused by high moisture levels in the underfloor area.
Solar Whiz Sub Floor Fans are recommended for addressing a large range of issues, including: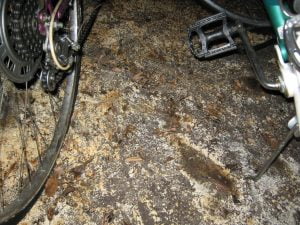 Fungi
Mould
Mildew
Condensation
Rotting stumps
A damp sub-floor
Buckling or rotting floorboards
Reducing the risk of white ants, termites and borers
Pest Control experts state that "in cases of poor subfloor ventilation, condensation builds up. This allows flooring timbers to gain moisture, increasing the risk of wood decay rot and a build-up of fungi and mould growth." To reduce or prevent mould, termites and damp subfloors, you need good underfloor ventilation.
Sub Floor Fans & Underfloor Ventilation – How Does it Work?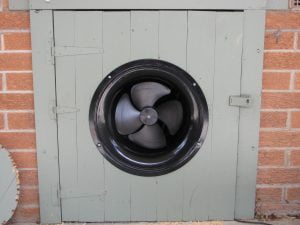 To prevent damage due to a lack of ventilation in the subfloor area – a great option is to install a Solar Whiz subfloor fan unit. This extracts hot, moist air from the underfloor and replaces it with fresh, dry air via wall vents strategically placed around the building keeping your subfloor well ventilated.
Solar fans have multiple advantages over the traditional mains powered and timer operated systems when used for subfloor ventilation. Solar Whiz subfloor ventilation provides efficient, cost-effective and sustainable underfloor ventilation solutions without any running costs.
The main reason for using solar-powered fans for subfloor ventilation is that the fan only runs when the sun is out. This means that the replacement air coming into the subfloor will have a relatively low moisture content. That's why solar underfloor ventilation is significantly more effective than timer operated fans – which may result in increased moisture levels in the subfloor area by introducing humid air during wet weather.
Is Sub Floor Ventilation Right for my Home?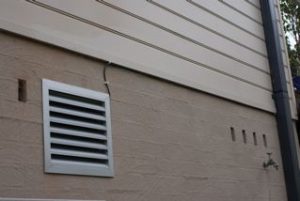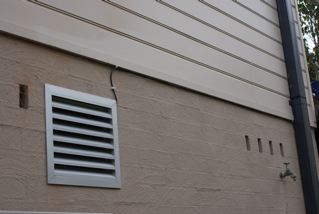 Effective subfloor ventilation is generally the best place to start addressing the above issues. There are very little (if any) houses that wouldn't benefit from a subfloor ventilation system.
If your house has a serious dampness or mould problem, you may be concerned that our systems won't be enough to solve your issue. GES also offers Solar Air Modules (SAM), that can work either in conjunction with a subfloor system or on its own. SAM collects warm, dry air (using collectors on the roof) and filters it into the house or subfloor space. A SAM and subfloor system will work together to effectively ventilate and dry your underfloor area.
SAM systems can also be used as a solar heating system and have many other benefits for your home. We strongly encourage you to read about SAM here.
If solar access isn't available in your home – you are able to power Solar Whiz fans by plugging a 12-volt power pack into a 24-volt powerpoint. The Solar Whiz subfloor fan range – although solar-powered – are generally more powerful and have higher air displacement capacity than mains powered fans.
If you have problems with humidity control and roof ventilation in warmer weather Solar Whiz may be the answer you are looking for.
Learn more about Under Floor Ventilation Installations
Subfloor Ventilation Installation Video Part 1
Subfloor Ventilation Installation Video Part 2