Roof Fans – Effective Solar Roof Fans
Do you know how warm it gets in your roof space?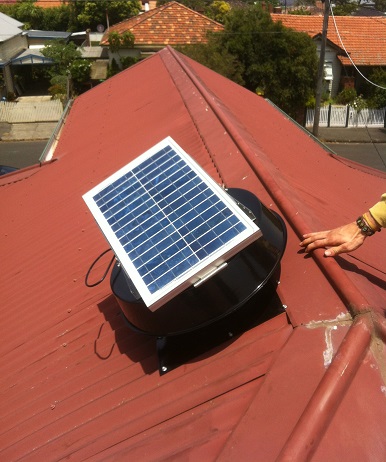 Most people don't. But it can get hot – very hot. On a normal sunny summer's days temperatures can easily reach 65 degrees – and if you have a dark roof – it could get even warmer than that!
All that heat has to go somewhere – and a lot of it goes into your home – leaving you with 2 options:
Turn the A/C up to cope
Start sweating
Neither of the 2 options are very attractive. However, there are things you can do to your house to reduce the heat build up in your roof and it is all about roof ventilation using solar a roof fan or air vents.
Solar Ventilators – Roof Fans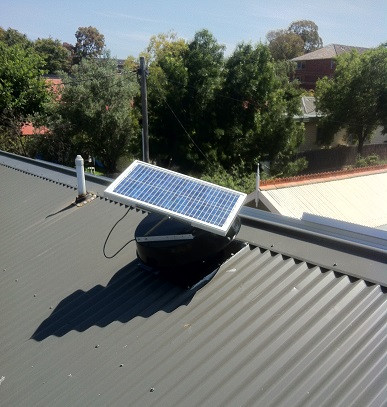 Up until the middle of last century many homes and other building incorporated passive roof vents or air vents of some description. whilst not very effective these passive vents did offer some relief from heat build up. Later the whirlybird was introduced. Although popular, their capacity to move air and reduce heat in the roof space is very limited. Powered fans were introduced as a more effective alternative – but they are not cheap – and airflow volumes are still relatively small. Currently, your best option can be found in solar roof fans.
Solar Roof Vents
In 2010 Solar Whiz introduced solar roof vents as an effective alternative to conventional passive roof vents and air vents – and far more powerful than whirlybirds and powered roof fans. The efficiency of these solar roof fans or ventilators has seen a large number of whirlybirds replaced with solar roof fans over the last few years .
How many roof vents do I need?
Well, that depends on a number of factors! The most important factor is the type of roof vent you choose, but for most homes you probably only need one and sometimes two solar roof fan ventilators.
However, if you are looking at whirly birds – an average house of say 200 square metres would need around 20 to make a significant difference.
Price indication for Solar Air Vents
We would be more than happy to help you with a price indication over the phone – so please don't hesitate to give us a call on 1300 609 994 to discuss your particular ventilation needs and a price indication for roof fans.
We can also offer an obligation free inspection and quote for a tailored solution.
If you prefer to contact us outside of business hours – you're able to submit an enquiry or quote request and we'll get back to you as soon as possible